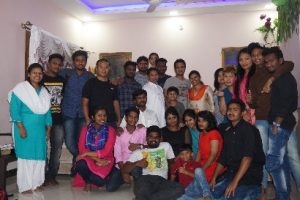 Nothing is more important than making disciples and everything we do in relation to it brings more excitement and satisfaction in fulfilling the Great Commission.
"Discipleship" reflects on "Relationship"
1. Kingdom Discipleship Centre is the place where we bring people from every walk of life building relationship, envisioning and equipping every individual regardless of age and gender that they would know, learn, come to faith, and grow to maturity with the revelation of God's Kingdom message that stimuluses the culture of discipleship. It teaches the importance of being a disciple and thereby making disciples that in turn will makes disciples which is intentional, accessible and simple.
2. Teaching life skills along with discipleship training – India is set to become youngest country in the world. The statistics shows that 1.3 million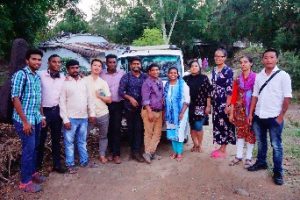 youth need job every month, 8 million a year. The gifted young generation is leading themselves to depression and lack of zeal with a reason that demands good education, job, life skills, competition, and stress at work place with overtasks. The kingdom discipleship Centre is a place for young people where they get equipped and encouraged to find the purpose in life both in career and ministry. We are with a passion of raising everyone as discipling leader in every sphere of influence, and also helping in discovering their skills and opportunities for the employment and entrepreneurship that are coming from villages, towns and cities. For the past nine months Kingdom Discipleship Centre has had been a cordial place in envisioning and building relationships. Thus, we trained over sixty young men and women in the last 9 months.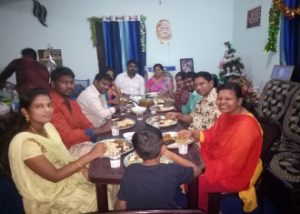 3. Apostolic Leadership envisioning is more than fifty leaders from the ministry field were invited and encouraged on how to purpose the church to the apostolic maturity and do the ministry together as a team for the good harvest.
4. Family Enrichment is focusing on the importance of the family as a husband and wife with their children in the ministry where they can comprehend the role of their support and they learn how to build and mend other families in their respective congregations and in the community.
5. Corporate Leadership Envisioning on Weekends Kingdom Centre has become an ideal place for inviting, building relations, and imparting the vision to the corporate and other working individuals from all sectors on weekends and week offs at their feasible time. We are so excited to see new people are being invited and we are glad to share the good news with them. As a result, five people had taken water baptism and one more is ready for it.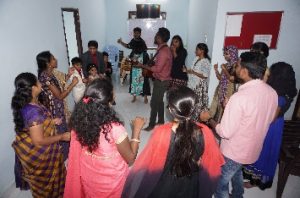 6. Daily Intercessory Prayers God is enabling us to having daily intercessory prayers at the Kingdom Centre by teaching them the importance of intercessory prayer that talks on beyond our needs and intentions for the transformation of this world. It is indeed helping young people to build their intimate relationship with God and grow strong in their spiritual life.
7. Strategic Outreach Ministry God is faithful in helping us to visit and encourage many fellowships gathering in cities, towns and villages with our young people. We are so glad to say that God is helping us in spreading the ministry and building new network connections from three different states. Our young people from KDC have got an exposure to visit 30 different places and involve in the practical ministry.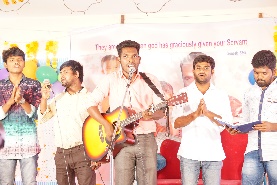 8. Motivate Music we knew that music and singing has an important role in worshiping the Lord. So, the Motivate Music is an ongoing program along with discipleship in improvising music and singing skills. We are also conducting special summer camps where we could give opportunity for more people for the training program during their school and college holydays.
9. National Ministry Administrative Office Kingdom Centre is not only training young people and envisioning leaders but also has become a convenient place for having our national administrative office where all the media, ministry administration, and its appraisal planning are done here. Please do pray for the bigger house where we can have our residency, kingdom centre and office together in one place which could be more accessible in spending our consolidate time with young people both men & women and make them as discipling leaders.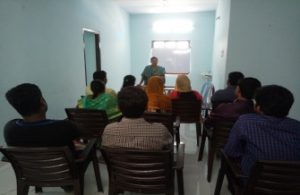 We express our heartfelt gratitude and thanks for praying and supporting this ministry. We also request you to pray and support for the specific needs;
• Please pray for the young leadership that are working with us in connection with the vision.
• Please pray for the Overhead projector that would help us to visualize our teachings on screen and help them to learn more effectively.
• Pray for Musical instruments & portable PA system where we can use specially in the villages during outreach ministry.
My Dear family our Dear Lord repay your work and full reward be given you and bless you richly…
We once again are thanking you all.
Yours loving Family,
Malaki & Beulah
MV India