We have an aim to give 500 Children's Bibles in schools by raising £3500 to buy the bibles in Moldova
Victor, his wife Yolanda and their family have a heart for the children of his home town Cahul in Moldova. As a child he was given a bible when he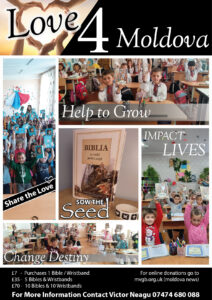 was at school and it had an impact on his life and on his journey he gave his life to Jesus. Victor's passion is to see the children receive a bible in all the schools in Cahul. Missionary Ventures GB are involved in supporting Victors vision through teams, fund raising and prayer.
Victors ministry is called Love4Moldova and with MVGB we go to schools and share the gospel message to the children, teachers and through the Bible and wrist band I am convinced the children share Jesus with their family. The Bible and wrist band cost £7 and on the trip we go into the schools, share the good news of Jesus and give each child a lovely illustrated bible in Moldovan (Romanian) and Russian language depending on the school.
Check out the video of Victor sharing about Moldova
You can be a part of this trip in a number of ways:
Pray with us - the most important part!
Help us to raise the funds of £3500 to buy 500 Bibles and the 500 wristbands - by donating funds yourself or sharing this message with others. We can also come to your church or group and share the stories and this project. (See below on how to donate)