Children's Bibles given out in schools - Moldova
Victor, his wife Yolanda and their family have a heart for the children of his home town Cahul in Moldova. As a child he was given a bible when he was at school and it had an impact on his life and on his journey he gave his life to Jesus. Victor's passion is to see the children receive a bible in all the schools in Cahul. Missionary Ventures GB are involved in supporting Victors vision through teams, fund raising and prayer.
We took a team from GB to Moldova to visit the schools and with a wonderful team from Moldova we got to deliver a sketch, share the Gospel and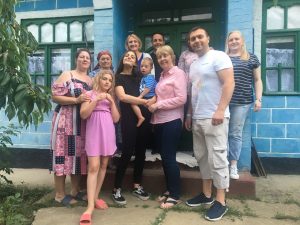 give out the bibles. The sketch was about the stories from the bible, from creation to Jesus' resurrection and the kids loved it! We were welcomed by the schools and shown a lot of wonderful hospitality, in one school, even being given a full lunch at about 10.30am!
As a team we also went into Cahul town to share the gospel, prayed with and had words from The Lord for people. This was amazing, to see the desire of people to be prayed for and open to listening to His message. We saw one man give his life to Jesus and Holy Spirit was with us as we prayed for others. Two of the team felt led to go to a young girl and when they did - her whole family came out to meet
them and were so full of joy. They were a christian family with teenage children and the Father was a pastor of a local church.
We spent a number of days at a local church working with the children from the village. We enjoyed 3 afternoons playing games, sharing about how much Jesus loves them and having lots of fun!
The whole trip was amazing and quite busy, everyone enjoyed it and were blessed and many new relationships were formed.
We are currently planning to go again in May 2020. If you would like to join us, please contact us at the MVGB office for more information.
[/pl_text]
[/pl_col]
[/pl_row]